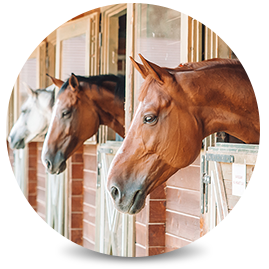 The Edenland Adventure Park accommodates one of the most animated attractions – a horse riding centre called "Eden Ranch".  It is a destination for all the horse lovers, a place for you to relax by riding a horse or by simply watching them. You can enjoy it with your loved one, your friends or family, whether you are an experienced horse rider, or a beginner.
Eden Ranch offers you specific services by authorized trainers, who can help you become loyal connoisseurs of the horse riding, of the horse behaviour and of the methods to take care of them.
Besides the horses with awarded performances, the adventure in Edenland becomes thus complete in the company of fascinating personalities by their diversity.
The horses are lodged in optimum conditions, in large stalls, they are well cared for and fed appropriately with the best quality foods.
Eden Ranch offers all the facilities for an optimum training of both horse and rider – an exterior horse-riding arena of sqm 4,200, with a silica-sand base. We also offer training possibilities in the evening, in a covered horse-riding arena of sqm 800, with a silica-sand base.
The pleasure of horse riding has obviously considerable benefits for body and mind, such as: development of balance and muscles (legs, abdomen, back, arms), stimulation and improvement of attention, mobility of articulations, appetite, digestion, blood circulation, flexibility, force and coordination of movements, reflex times or cardiorespiratory functions.
The minimum age for riding is 7 years old. To schedule horse riding sessions, please call us at 0732 705 740. For reservations during the week (Tuesday – Friday), please contact us with at least one day in advance, and for weekends and legal holidays with two days pryor.
For pony rides the maximum weight allowed is 30 kg and no reservation is required.
Costs
1 session/45 min. – 150 Lei
1 session with a pony/15min – 35 Lei
10 sessions + 1 bonus – 1500 Lei
The fees are expressed in Lei and include 19% VAT.
To issue subscriptions it is required the birth certificate of the child (original or copy) and the identity document of the adult.
Open
Monday – Closed
Tuesday – Sunday – 10:00 am to sunset
Phone – (+4) 0732 705 740
Contact us
Edenland Park – 12 Cantonului, Balotesti, Ilfov
To take up horse riding lessons please contact us by telephone first 0732 705 740.