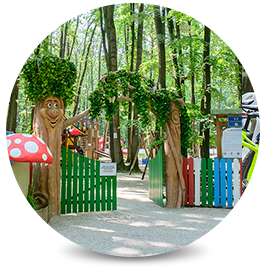 Edenland Adventure Park is a magical place where fun and games earn new meanings. We made sure that we do not neglect the youngest of our visitors, so we created the perfect place for them. We want to be both an opportunity to express creativity and fun for the little ones, and relaxation for the parents, right in the middle of the forest, in a park different from those in urban areas.
The entire playground space was arranged with special attention for safety features, hiking areas, slides, swings, trampolines and sand islands.
The children playground is intended for children aged 2 to 9 years.
Children playground access
35 lei / day for children (2 – 9 years old)
Children's subscription 2 – 9 years – 900 lei (Access once/day. Includes parking and access to the park for one adult and one child).
Validity 1 year from date of issue. In January and February we will carry out annual maintenance work, so activity will be suspended until the work is completed.
The prices are in LEI and they include VAT.
To issue subscriptions it is required the birth certificate of the child (original or copy) and the identity document of the adult.