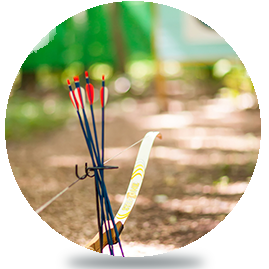 Edenland Adventure Park invites you to enjoy one of the most popular activities, archery.
Developing focus, stimulating internal balance and testing your maintain to keep calm, archery helps in orientatating towards the objective and learning how to grasp a correct position.
From historical point of view, archery was used for hunting and fighting, and in modern times, its main use is in sports (archery being an Olympic game) and in leisure activities. The arch, from its origins, is a primitive weapon for throwing arrows, made from lightweight and elastic rods.
The arch was used as a hunting weapon or fight since the time 30,000-10,000 i.Hr. Today it is only used in sports competitions of shooting at a target. Traditional bows are made of wood, horn or animal tendons. Top-rated arches are produced by high technology and their construction lasts several months.
Choose to spend your time hunting, simulating giving you an effective way to uncover the stress accumulated over the week.
Costs
1 lei / arrow
The prices are in LEI and they include VAT of 19%.
Contact us
Edenland Park – 12 Cantonului, Balotesti, Ilfov
Phone: (+4) 0733 365 263/ 0733 365 262
Email: info@edenland.ro
Please contact us on the phone only during these working hours:
09:00 – 18:00 (monday – friday) / 10:00 – 19:00 (saturday – sunday).