The costs for entering the park are as follows:
Adults -10 lei/person
Children over 3 years – 5 lei/person
Children under 3 years free of charge
The activities are paid separately from the park access fee.
ADDRESS
12 Cantonului, Balotesti, Ilfov
PHONE
(+4) 0733 365 263 / 0733 365 262
EMAIL
info@edenland.ro
Please contact us on the phone only during these working hours:
08:30 – 17:30 (monday – friday) / 10:00 – 18:00 (saturday – sunday).
RESTAURANT
(+4) 0724 836 975
restaurant@mumapadurii.ro
HORSE RIDING
(+4) 0732 705 740
PAINTBALL
(+4) 0731 060 717 / (+4) 0732 875 039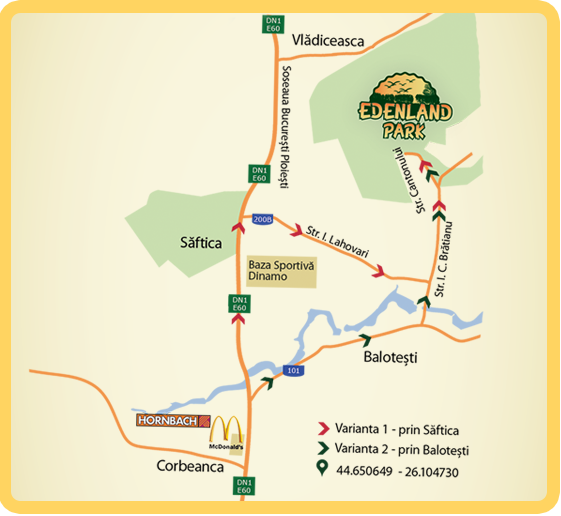 Edenland Adventures is an authorized operator for processing personal data, registrated at ANSPDCP a 29240 , in accordance with the provisions of law No. 677/2001 for the protection of individuals with regard to the processing of personal data and the free movement of such data.
Edenland Adventures is determined to manage, absolute certainty and only for specified purposes the personal data which you provide to us about yourself, your family member or other person. The purpose of collecting data is related to the activities of marketing and advertising.
Also, in accordance with the provisions of law No. 677/2001, you have the right to access the data, to interfere, the right not to be subjected to a individual decision and the right to address to justice. You also have the right to oppose to the processing of your personal data and request deletion.
To exercise these rights, you can contact us with a written request, dated and signed at: Cantonului Rd., no. 12, Bucharest-Ilfov.