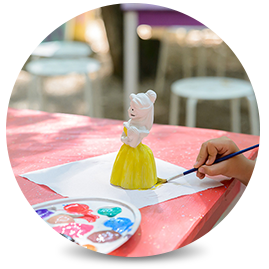 We aspire to be a true partner and an educational playground for small visitors Edenland Park, so we organised for children of all ages a painting workshop.
A moment that puts an accent on creativity and imagination, children can develop at the same time the spirit of teamwork, inter-agency networking, capability and communication skills, attention to details and motion skills.
So, whether the kids are creative and like to paint and colour, whether you want to relive the feeling of childhood-Color paradise is the place where imaginations and colors are at home.
We invite you to the most awesome place where princesses from the stories, the characters in cartoons, cute pets, flowers and three-dimensional toy cars are just waiting to be painted and come to life. Sand paintings and artwork sets will complement the décor of the story.
A surprise painting workspace are anti stress coloring books, meant to bring out the relaxation in adult souls.
Costs
The painting is done on plaster figurines, 150 models in different colours. Because we fulfill desires for both young and adult, prices range between 20 and 60 lei.
The prices are in LEI and they include VAT of 19%. Payment – cash and card.

Open
Mondey – Sunday – 10:00 am to sunset