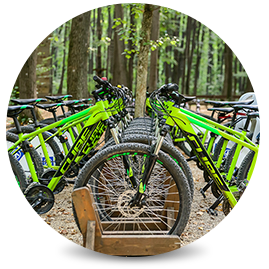 A pleasant and relaxing way to explore the Park is the bike ride. We offer bike rental services to enjoy the fantastic atmosphere of Edenland Park with friends or with the whole family.
Far from the loud noises of the city life and urban pollution, surrounded by the green and the freshness of the forest, riding the bike will turn stress into a distant memory of the past, allowing you to fully enjoy the nature.
An ideal substitute for car driving or other types of transportation, riding a bike is a remedy for both physically and for the spirit, to tone up your legs and buttox, improoving the quality of sleep up to a better circulation.
You can also visit Edenland Park with your own bike.
Bike access
20 lei / 30 minutes
40 lei / 60 minutes

The prices are in LEI and they include VAT.
Contact us
Edenland Park – 12 Cantonului, Balotesti, Ilfov
Phone: (+4) 0733 365 263/ 0733 365 262
Email: [email protected]
Please contact us on the phone only during these working hours:
09:00 – 18:00 (monday – friday) / 10:00 – 19:00 (saturday – sunday).