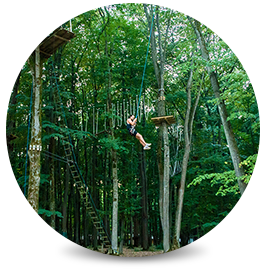 For adventurous persons, with a special appetite for thrilling activities, Edenland Adventure Park offers you "Eden Jump", a fully safe jump from 15 m height, being assisted by a specialized trainer.
The experience starts with a free fall from approximately 4 m, moment which can hardly be equaled by other activities, continuing with a balance type pendulum. Felt at the level of the heart, the sensation is unique and even more intense if the jump is made with open eyes. From the edge of the platform, with an almost chocking emotion, looking at the royal beauty of nature from 15 m height, the body is flooded by the most pleasant "rainbow' of feelings, changing even your view on life. It will be an adventure for all your senses.
Eden Jump represents one of the competition activities suitable for events type team-building.
Access:
Adults
12 – 16 – years-old children, with the parents' consent
Children over 16 years, without the parents' consent
Eden jump access
30 lei / 1 jump
The prices are in LEI and they include VAT.
Open
Monday – Sunday – 10:00 am to sunset
Contact us
Edenland Park – 12 Cantonului, Balotesti, Ilfov
Phone: (+4) 0733 365 263/ 0733 365 262
Email: [email protected]
Please contact us on the phone only during these working hours:
8:30 – 17:30 (monday – friday) / 10:00 – 18:00 (saturday – sunday).