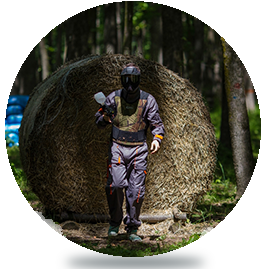 An engaging and fun way to spend time with friends or co-workers.
Since its introduction in the 1980s, paintball has become an international phenomenon. Fans of the game have formed teams, founded leagues and organized championships. What makes it different from other sports is the necessary equipment: guns and shells with paint.
Edenland Paintball is the world's largest paintball outdoor arena from Romania with a surface of 4000 sqm and equipped with night lighting, located neaby the capital. We also offer consulting services, training and various game scenarios.
Playing alongside and against your friends creates stories of epic "war", wich you will be able to tell further with great pleasure, with any occasion.
Edenland adventure park offers you several ways to play:
Paintball target practice (min age 10 years)
Recreational Paintball (min. age: 12 years/min 4 persons group)
Woodsball Paintball-Scenario Games (min. age 12 years/min 6 persons group)
All rental gear is well maintained, corresponding approvals and is maintained by specialist staff. Thanks to our collaboration with Tippmann Sports, we are able to offer reliable technology, which is used worldwide on paintball fields. If a technical problem occurs, then contact the staff and rented equipment will be changed. You need to play and have fun without being bothered.
We expect you to spend a day full of color and fun.
Costs
200 ball – 50 lei
100 ball – 30 lei (this is extra, over the 200 balls package)
The prices are in LEI and they include VAT of 19%.
Contact us
Edenland Park – 12 Cantonului, Balotesti, Ilfov
Phone: (+4) 0731 060 717 / (+4) 0732 875 039
Email: info@edenland.ro
Please contact us on the phone only during these working hours:
09:00 – 18:00 (monday – friday) / 10:00 – 19:00 (saturday – sunday).