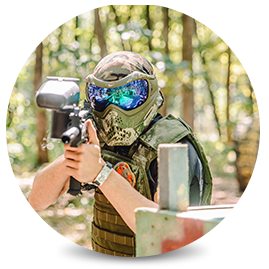 Few games offers for players as much satisfaction as Paintball.
The perfect mix between focus and physical activity ensures a complete recreation from daily hardships.
Edenland Paintball Arena, equipped with nocturne lights for the striking nightly sieges, is the largest outdoor Paintball arena from Romania (4,000 square metres).
Paint what you were aiming for, all right
A day out at Edenland Paintball Arena guarantees a big smile on everyone's face, in every season. Furthermore, paintball is a totally harmless game, suitable for children over 10 – what can be more exciting than a live shooter, far away from the PC screen?
Teambuilding
Paintball is a wonderful team-play, which enhances communication and team-work capabilities. It's an outstanding occasion for the work-colleagues to know each other and interact in other contexts.
Paintball reveals personality traits as taking risks, assuming decisions and openness to collaborative actions.
A paintball session welds any team.
Paintball Edenland, near Bucharest
situated in a great adventure park;
safety equipments in good shape;
Tipmann Sports technology, one of the best known brands in the world; different game scenarios;
groups of minimum 6 persons, over 10 years old.
We expect you to spend a day full of color and fun.
Costs
Minimum 6 people for booking:
Start Package: 200 paintball balls – 90 lei/player
Silver Package: 300 paintball balls – 120 lei/player
Gold Package: 400 paintball balls – 140 lei/player
Pro Package: 500 paintball balls – 160 lei/player
Fild exclusivity: group minimum 10pers
Recharge at least 100 paintballs – 60 lei/player
Rates for groups of less than 6 people:
Start package: 200 paintball balls – 110 lei/player
Recharge at least 100 paintballs – 70 lei/player
Minimum age – 10 years old
Target Practice 30 lei / charger
FAQ
Q: What is the minimum age for playing Paintball?
A: 10 years old
Q: How many paintballs am I gonna need?
A: Depending on one's playing style and personal enthusiasm, the average number of paintballs shot is between 400 and 500 per day.
Q: Can I play if I'm alone and I don't have a team?
A: Call the field to schedule and we will try to join a group formed at the location.
Q: What is your working schedule?
A: Tuesday to Sunday, from 10 AM until sunset
Contact us
Mobile phone: +4 0731 060 717 / +4 0732 875 039
To enjoy this activity please contact us by telephone for booking first.
Schedule:
Monday: Closed
Tuesday – Sunday, from 10:00 am until sunset
Edenland Park – 12 Cantonului Street, Balotesti, Ilfov