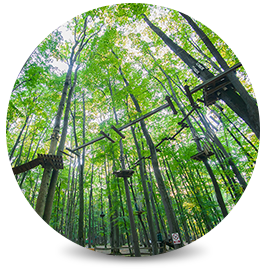 For action and adventure like in Indiana Jones movies, Edenland Park offers you 14 tree courses, with various degrees of difficulty, suitable for both children and adults. The hiking courses in the trees represents the ideal opportunity for physical exercise and to raise the adrenaline level. Test your limits and exceed your mental and physical limits.
Edenland Park offers 14 trails in trees, equipped with the unique safety system in Romania – "Life Line". This gives the participants comfort and confidence in going through the routes. From the very beginning, the customer is permanently insured, and switching from one game to another is done without having to remove the carbine from the safety cable. This can only be removed at the end of the route or when needed by authorized personnel.
The courses have 3 items of identification: by color, by name and by grade of difficulty, as mentioned below.
Safety and security are our priority in organizing such activities, so after each equipping, each participant will take part in training and demonstration of about 10 minutes, explaining how to use the individual protective equipment and indicating the order of the routes. On the route, the participant is independent, but there will be always monitors on the ground, providing assistance when needed.
We want to let you know that on weekends and legal holidays, this activity might have waiting times. We hope it won't be an inconvenience and you will still want to visit our adventure park just as much.
Tree courses access
( 3 h / person )
Individual
14 + years-old – 80 lei
4 – 13 years-old – 60 lei
Team Pass costs*
14 + years-old – 70 lei
4 – 13 years-old – 50 lei
Additional hour

14 + years-old – 30 lei
4 – 13 years-old – 20 lei
1 year subscrition

14 + years-old – 1200 lei
4 – 13 years-old – 1000 lei
3h/pers./day and includes the park access and parking fee
Validity 1 year from date of issue.
For children (4-5 years-old) set of 2 h/35 lei
*For you to benefit of the Team Pass costs it is necessary to buy minimum 3 tickets – maximum 5, out of which minimum 1 – maximum 2 14 + years-old tickets and the rest of the tickets 4 – 13 years-old.
The prices are in LEI and include VAT.
In January and February we will carry out annual maintenance work, so activity will be suspended until the work is completed.
To issue subscriptions it is required the birth certificate of the child (original or copy) and the identity document of the adult.
Difficulty degrees