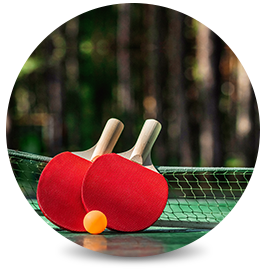 Table tennis is a sport for both the body and the mind. The main benefits of table tennis are: exercise for all muscle groups, a good means of socializing, training coordination, increased concentration and alertness. Table tennis is suitable for both adults and children. Practicing this sport increases the mobility of the body and helps to develop muscles, especially in the lower limbs and back.
Table tennis is distinguished from other sports by explosions of effort and rest that improve hand-eye coordination and stimulate mental alertness, concentration and strategy skills.
It is excellent for children who do not have patience or do not react well to emotions. The body is allowed to develop harmoniously, without being deformed, because this sport combines the agility to respond to the opponent's blows with the speed of organizing its own strategy.
Prices
20 lei / 30 minutes
40 lei / 60 minutes
The prices are expressed in lei and include 19% VAT
Time schedule
Monday – Sunday – 10:00 until sunset