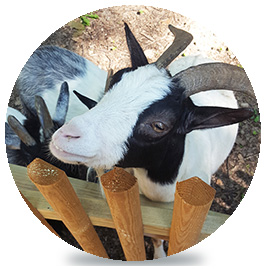 Edenland Park is ready to entertain you with a new attraction – the Zooland! One of the largest adventure parks from Romania, Edenland Park, located in Balotesti, only 20 km far from Bucharest, has become also a protection home for saved animals. So, we created a special space for them and we called it the Zooland!
The Zooland has several rare white Bactrian camels, which can barely wait to be watched and admired. You will also see the smaller relative of the humpless camel – the llama. You just have to pay us a visit to our adventure park to caress the friendly and gentle llama, which, together with the curious and smart goat – one of the first animals tamed by the man, enrich the family of the ruminants from the park.
The adventure continues with one of the animals which is most fond of walking, the reindeer, known as the animal which can walk more than any terrestrial animal. Edenland family is enriched by dears and one of the most wonderful fowls – the peacock.
Dare to come to Edenland Park and make sure that you do not miss the Zooland!
To visit the animals you don't need to make an appointment.
Contact us
Edenland Park – 12 Cantonului, Balotesti, Ilfov
Phone: (+4) 0733 365 263/ 0733 365 262
Email: info@edenland.ro
Please contact us on the phone only during these working hours:
09:00 – 18:00 (monday – friday) / 10:00 – 19:00 (saturday – sunday).